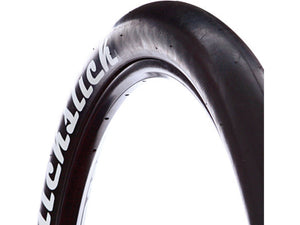 It's all in the name, ThickSlick. Made with a burly casing designed to withstand the roughest urban conditions, while the no-nonsense, slick design provides the bite you need in the concrete jungle. Need more rubber? The nearly indestructible Flat Guard level, with its Urban Armor Casing and added rubber...everywhere, provides optimal protection to contend with any city streets. It's no one wonder why this tire has a cult following among couriers, those not wanting to deal with flats, and value-conscious consumers. 
Thickslick 
Puncture Protection:  The thicker a tire, the harder it is for glass, pins, staples, and other urban unpleasantries to worm their way in. 
2X the Rubber: Twice the rubber tread equates to twice the lifespan of a tire. This means your price is 50% off the competition. 
Smoother Ride Quality: Twice the rubber makes for a smoother ride through the natural absorption qualities of rubber.